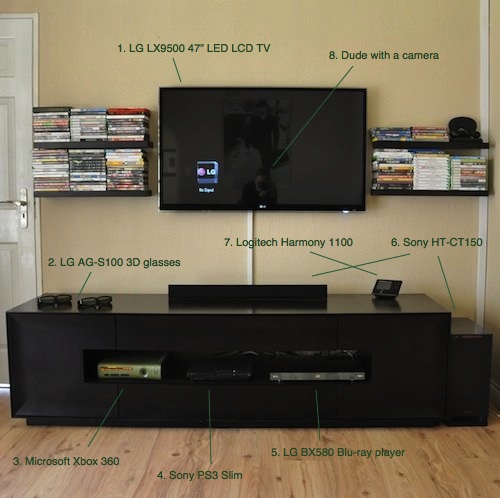 For the past week I have been testing a 3D home entertainment setup in my lounge thanks to the guys at LG that sent me some equipment to combine with my own system. The picture above is of the wall in my lounge. Before we talk about the realities of 3D television, let's take a look at the bits and pieces and their prices.
LG LX9500 47" LED LCD TV – This is the heart of the system: a beautiful 47″ monitor with 4 HDMI inputs that handles five different ways of producing 3D imagery. This is honestly the most ridiculously thin television I've ever seen and does a great job of rendering 1080p high definition visuals and, of course, 3D. More about that later. Price: R42000
LG AG-S100 3D glasses – The LX9500 television comes with two pairs of glasses and additional pairs can be bought separately. The glasses are charged using included USB cables and a micro USB port. A 2 hour charge and they're good to go for at least a week of moderate viewing. Price: R1000 per pair.
Microsoft Xbox 360 – The Xbox 360 with HDMI port is 3D compatible, but older XBox 360 units without HDMI don't cut the cheese. The only game I had to test with the Xbox is Avatar, which was provided by LG. The Korean company has allied with Microsoft for the development of 3D gaming. Price: R3000
Sony PS3 Slim – The Sony Playstation 3 is also 3D compatible, but I don't have any 3D games to test it with. Time will bring them though. Price: R3300
LG BX580 Blu-ray player – LG's latest model of Blu-ray player handles 3D and also has n-class wireless for accessing network media silos and online services like YouTube. That said, the n-class settings are curiously missing from the menu. It did produce the goods in 3D, however, with a disc of demo 3D footage provided by LG. Price: R3500
Sony HT-CT150 – This is a compact sound system that makes use of a speaker-bar and woofer to produce 3.1 sound. It also does a great job of playing 5.1 surround sound audio. Most importantly, it has 3D-passthrough for compatible devices. Price: R3000
Logitech Harmony 1100 – A universal remote is a must when you're dealing with this many components. The 1100 is overpriced but does the job fantastically and is programmed via Logitech's online Harmony service where just about every device known to man is catalogued. Price: R2500
Dude with a camera – That's me. For 3D effects to work properly I need to be at least two meters away from the TV with powered-up glasses on my face. Price: Name it.
Now my only problem is that all I can watch in 3D is the demo Blu-ray disc that LG sent me to play with and the *Avatar *game for Xbox 360. But it is early days. If I was in the USA and signed up with a compatible pay-television company I'd be able to watch live sport in 3D on ESPN. Japan has also commenced live 3D broadcasts. In South Africa none of our pay-television providers have plans to do that just yet but we should have 3D movies on Blu-ray and console games arriving soon.
I am suitably impressed with the footage on the LG demo disc. High definition 3D is a fantastic experience although there is some noticeable blurriness here and there. The only real disappointment I've had is with the Avatar game for Xbox 360 which doesn't look very good at all. The 3D works, but when you start running around in the game things get blurry and unplayable. It's also a crap game. Definitely not a shining example of what the LG television can do.
It'll be interesting comparing 3D gaming on Xbox and PS3 in future. PC gaming is also entering the fray with 3D monitors now making their way into the market and technology from Nvidia that even converts existing titles into 3D.
3D is a nice to have, but it's not indispensable and I would wait for prices to come down before investing in a compatible HD TV. That said, this is one of the most fantastic monitors I've seen and if I could I would definitely keep it attached to my wall. As I continue to use it I'll post more reviews in the various publications I write for, and on Twitter.