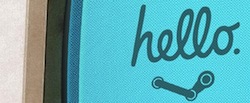 It's official – video game company Valve announced today that its Steam gaming service is coming to the Mac, along with a native version of gaming engine Source that will bring with it popular titles such as the Half Life series, Left 4 Dead 2, Portal and Team Fortress 2.
Most important is the fact that Valve is not using emulation to make this all happen, as some suspected it would. Emulation would see the original versions of the games being played on the Mac in a spoofed Windows environment. Instead the developer has created a native version of its gaming engine – built for OS X.
This is an astute move by Valve, paving the way for native Mac games in the future and opening the system up to the growing market of Mac users.
Valve has been at the forefront of digital distribution in gaming, allowing gamers to buy and download games and other content, interact with a social network of other users and find servers to play multiplayer games on, all from the Steam software.
Said Gabe Newell, president of Valve, in a statement on his company's website, "As we transition from entertainment as a product to entertainment as a service, customers and developers need open, high-quality Internet clients."
"The Mac is a great platform for entertainment services," he added.
Valve said that it currently provides over 1000 games on the Steam platform to over 25 million gamers. It also confirmed that licenses for its games would be usable on either PC or Mac versions of those games.
So, for example, The Orange Box compilation that I bought in 2008, with licenses for Half Life 2, Team Fortress 2 and some other games can now be used to play those titles on the Mac when the Steam client for Mac launches in April.
Steam also offers internet distribution of gaming software – so I will be able to download the Mac versions of those games without having to go out and find disks.
And one could, for example, play Half Life 2 on a Mac and then switch to a PC and carry on where they left off.
This places Valve way ahead of the pack when it comes to next-generation gaming, and also highlights the growth in market share of the Mac platform. At this point I should probably add that Blizzard – the company behind the Diablo, Starcraft and Warcraft franchises, including the world's most popular massively multiplayer online role-playing game, World of Warcraft, has been developing its games for both Windows and Mac for over a decade.
The upcoming Portal 2 will be Valve's first simultaneous release for Mac and Windows and, thanks to the Source engine, the *Steam *system will bring a bunch of games over to the Mac at launch, and many more in future.
Now my only problem is that the Magic Mouse is crap for first-person shooters. Time to dust off the Microsoft mouse!