Online publishing adopts quality
A revolution has begun in independent online publishing that is prevalent in two new sites that have gone live in recent weeks – TechCentral and The Daily Maverick. The change is simple yet fundamental; focus is switching towards thoughtful, quality content and away from impulsive, shoddy writing. What we are learning from these sites is that quality trumps immediacy – even online.
The Daily Maverick and TechCentral are driven by content – everything else is secondary. And the content rocks. What was traditionally the domain of print is becoming embodied online with solid writing and quality photography being the staple of both these new online publications. Design is a secondary concern, unlike many other websites that use flashy layout as a disguise for slipshod content – not that there is anything wrong with the design of either The Daily Maverick or TechCentral.
And what separates these two sites from their chief competitors is that they are independent, not representative of or directly affiliated with print publications. Their content is developed for online first and foremost. And they aren't blogs. They are online publications in the truest sense.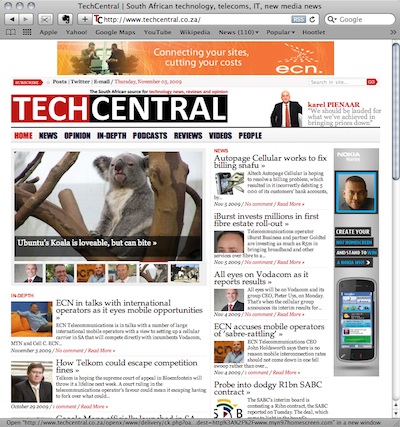 TechCentral is the brainchild of respected technology journalist Duncan McLeod, previously of the Financial Mail (FM). The site offers in-depth technology news focused on the South African market with multiple daily updates and a quality of journalism and writing that is rare on the 'net.
Duncan is a master in his field and has attracted a diverse array of columnists and journalists to the TechCentral fold, including the controversial former CEO and founder of Vodacom Alan Knott-Craig, politician Patricia de Lille and internet executive Justin Spratt of Internet Solutions (IS). Lance Harris handles gaming content for the site and must be the most talented reviewer in the field. Lance can review even the most mundane of video games and have me hanging onto every word with sheer quality of prose.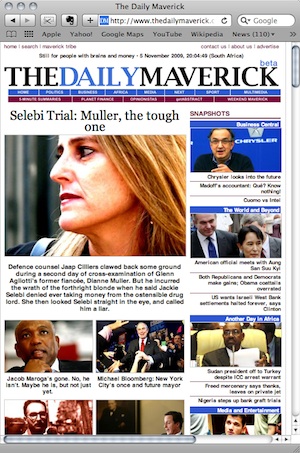 The Daily Maverick, still in beta at time of writing, is the latest product from Branko Brkic, a seasoned publisher and entrepreneur who was responsible for *Maverick *magazine that unfortunately closed its doors last year. Maverick did not die, it formed a chrysalis to be reborn as the irreverent and intellectually sharp Daily Maverick, carrying the provocative slogan, "Still for people with brains and money".
On the Mavrick's roster of writers is former senior online editor at Reuters, Mark Allix along with Maverick stalwart Phillip de Wet  and Captain Controversial himself – Ivo Vegter, amongst others. The Daily Maverick presents the news right in your face. No holds barred, and nothing short of refreshing.
Whereas I used to consume online reportage and other writing in the same way I do newspapers – by glancing over headlines, blurbs and the odd paragraph – both The Daily Maverick and TechCentral have me actually reading again, and in a way that few print publications manage.
The Daily Maverick and TechCentral are pioneering a new form of publishing that makes their online counterparts look destitute. I applaud both Duncan McLeod and Branko Brkic on boldly risking it all on the 'net and raising the bar on publishing. Period.