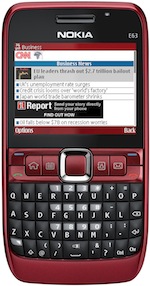 The Fins have landed their latest evolution of mobile messaging in South Africa. Nokia Messaging was previously available as a global Beta, but is now ready to roll and MTN has been signed as the first local partner for the service – which will no longer be free if you switch over to the official release. I'll state up front that I'm honestly confused by this announcement.
Nokia says that their Messaging service is easy to set-up and use with push e-mail services that support up to ten personal e-mail accounts on one device.
Nokia Messaging supports all leading consumer e-mail solutions including Gmail, Windows Live, Hotmail and Yahoo! mail as well as local email services from MWEB, MTN Play and Webmail.
Says Sarah Crowe, head of marketing at Nokia South Africa, "The Nokia Messaging Service is the consumer pillar in Nokia's overall messaging strategy … also includes Ovi Mail for free emerging e-mail services and Mail for Exchange and IBM Lotus Traveler for corporate e-mail mobilisation. This three-pronged approach positions Nokia well to provide quality messaging solutions to all of our consumers".
Sounds good – but I don't see how it plans to compete with other mobile platforms that offer much of the same for free, or as part of a service agreement, ala BlackBerry. There also isn't much incentive to upgrade from the free beta to the paid-for service. And if you're on another network, say Vodacom or Cell C, then you can continue to use the beta.
As for ease-of-use and partnering with local email providers – setting up email on a BlackBerry, iPhone or Android device is already a simply process of inserting your username and password. It doesn't get simpler than that, surely?
As part of its agreement with MTN, Nokia will be offering the Messenger service as a bundle on the Nokia E63 combined with a 10MB data plan. The E63 is pretty sweet, although its S60 operating system is getting seriously long in the tooth. And 10MB? In 2010? Seriously?
The Nokia E63 Messaging bundle will be available at participating MTN stores from the end of April 2010 at an approximate retail price of R119 per month on MTN AnyTime 100.
Nokia has shown strong prospects in the smartphone market with the N900 and the move to make Ovi Maps an entirely free service. I also think the agreement with Intel to co-develope the MeeGo platform is a step in the right direction.
But the Nokia Messenger announcement is underwhelming.
For, like, R20 more than the MTN deal you could get the BlackBerry 8520 on contract, with unlimited connectivity (which is quite a bit more than 10MB), including messaging and simple set-up.
Even at the low-end of the market this service and, more so, the contract from MTN makes no sense. Unless I'm missing something?