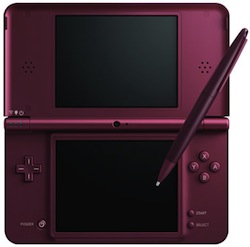 Exclusive distributor of Nintendo in South Africa, The Core Group says that the Nintendo DSi XL portable gaming console will be available locally by the end of April.
The DSi XL has two 4.2″ screens that are 93% bigger than the screen on the Nintendo DS Lite. It also has a larger pen-like stylus whereas most of the DS Lite left you feeling fat-fingered as it was clearly developed with 5-year-olds in mind.
Core says it will launch the DSi XL in two colours – wine red and dark brown, with a glossy sheen on top and matt finish on the underside for gripping onto tables and other surfaces.
The new console also comes pre-loaded with two Nintendo DSiWare software titles – Dr Kawashima's: Little Bit of Brain Training: Arts Edition and Dictionary 6 in 1, as well as the Nintendo DSi Browser.
The DSi XL also has a camera that can be used for video chatting and putting your mug into games, amongst other things.
Core has not confirmed pricing yet.