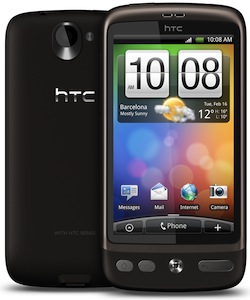 New smartphones from HTC, including the Legend and Desire are schedule for launch in South Africa on 12 April 2010. These and a range of other new models from the Taiwanese manufacturer were announced at the GSMA Mobile World Congress 2010 in Barcelona in February.
The Desire is comparable to the Nexus One, which is manufactured by HTC and sold by Google. There are still no plans to launch the Nexus One in SA, but the Desire is a practically identical phone with the same 3.7″ AMOLED capacitive touchscreen, 5 megapixel camera and, most importantly, Android 2.1 operating system that you'll find on the Nexus One.
The only real difference between the two is that the Nexus One is a quad-band device that supports WCDMA and associated American network frequencies, while the Desire is a dual-band GSM (with HSDPA) handset. The Desire also beats the Nexus One for battery life, apparently.
The Legend is a smaller smartphone with a slower processor (600MHz compared to 1GHz on the Desire). It also runs Android 2.1 and HTC's Sense user interface.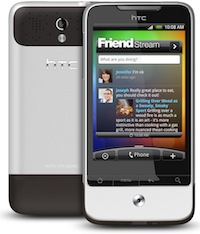 It is uncertain at this stage what the new HTC devices will cost in South Africa or which networks will carry them – but since Vodafone carries both the Desire and Legend in the UK I think it's safe to say that Vodacom will have both available on contract.
HTC faces legal charges from rival Apple who has accused the former of patent-infringement. Analysts have predicted that HTC will have to place new products on the back-burner until the dispute is settled. The Desire and Legend are firm competitors for Apple's iPhone, which continues to dominate the touchscreen smartphone market.