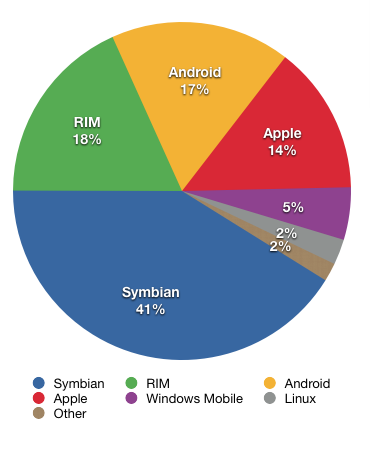 Today Microsoft will launch Windows Phone 7 in New York. The new operating system is the successor to Windows Mobile, recently rebranded Windows Phone, and was announced at the Mobile World Congress in Barcelona in February. It's an important play for Microsoft – and one that I believe will have a positive impact on the market.
I have just finished a column for Fin24 on the performance of Microsoft since the dot-com bubble burst in 2000 and how its mobile strategy may elevate the stock for the first time in a decade. If you like numbers then look for the article on my columnist's page. Here we'll stick to why I think the mobile market needs Microsoft – but we need to look at some numbers.
The current status quo in mobile is represented by the pie chart attached to this post. It shows the market share of leading smartphone platforms in the second quarter  of 2010.
Nokia is still the market leader with its Symbian platform and ships more smartphones every day than any other manufacturer. Android is the fastest growing mobile platform and Research in Motion is losing ground with BlackBerry – although it is doing the right thing by opening up to developers. Apple is happily occupying 14% of the market and is making more revenue from that slice than Nokia does in its entirety.
Microsoft has a relatively tiny 5% of the market despite having one of the first "smartphone" platforms with Windows CE that presented itself as Pocket PC in 2000 and since rebranded to Windows Mobile and now Windows Phone.
Too many technology enthusiasts are dismissing Microsoft and writing off Windows Phone 7 before it is even available. I'm not suggesting that Microsoft is guaranteed success in the market, but I don't believe you can write it off. And whether Windows Phone 7 makes it or breaks it, I believe it will introduce a healthy dynamic.
For one, it will offer a true convergence of Microsoft services, bringing together the Zune Marketplace for content, Xbox Live gaming division and Microsoft's productivity offerings. This is a win if you use these services and holds promise for gaming. Xbox Live is launching in South Africa before the end of the year and I suspect Microsoft will unleash Zune in the local market soon too – especially if it wants to meet and beat Nokia that already has its Ovi services, including music store, up and running in SA.
Love or hate Microsoft most of the market uses its products and services and will welcome a mobile platform that integrates with these. We get caught in bubbles like universities or tech fraternities where Apple is ubiquitous, for example – but in the real world Microsoft still owns over 90% of the computer operating system market. It also has the second biggest gaming console brand and dominates productivity software.
The ecosystem play by Microsoft is going to force its competitors to think about how they integrate with customer's existing environments. Not that they aren't playing that game already – but they're about to be schooled.
Nokia has maps and music. RIM has BlackBerry Enterprise Server and Messenger. Apple has the lion's share of applications and content retailing. Microsoft has its Live services, including mapping, it has Exchange, Xbox, Zune with music and video – and the list goes on. We all know the market is currently about service integration and nobody has more to integrate than Microsoft.
The Redmond giant knows how to convert and retain developers and has more experience with third party supporters than any of the other mobile players. Windows Mobile was open to apps years before the app store was invented and allows for development in one of the most familiar environments in computing with its Microsoft Visual Basic CTP for WindowsPhone Developer Tools.
RIM recently opened up the BlackBerry platform to a rang of development environments, including a very competent take on web applications that plug into the BlackBerry API stack with WebWorks – it's a great move and don't doubt that it was, at least in part, prompted by the loom of Windows Phone.
The race is on like Donkey Kong when it comes to enticing developers. Apple has nothing to worry about in this department thanks to the ridonkulous revenues it has shown via iTunes. Microsoft has already cleared the biggest hurdle – getting them trained on the tools.
Mobile platforms are going to have to open up and innovate in the race for developers if they want to stay ahead of Microsoft and this is all good news for consumers.
Microsoft is going to get the competition on their toes and keep them there – hell, it's already started doing this. It will take the fight for developers to a new level and will further educate the market in terms of smartphone usage models.
And it might fail. But I doubt it will. Even if it does – it will have an overwhelmingly positive effect before it fizzles out.
iPhone versus Windows Phone 7