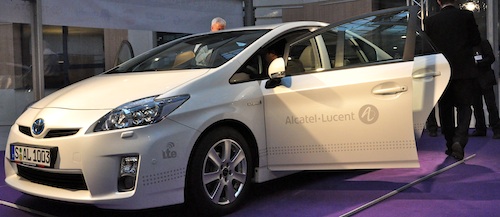 There are some things every car should have – besides for an engine and other obvious bits and pieces like wheels. One of these additional musts is USB ports. Another is high-speed internet connectivity. Alcatel-Lucent is taking us closer to the latter via its ng Connect initiative that creates an ecosystem of partners, including content providers, gaming companies and others, to develop solutions based on LTE mobile broadband.
The 'LTE Connected Car' is one proof of concept that has been developed by Alcatel-Lucent and its ng Connect partners, including Chumby, LG Electronics and Toyota. The car shows what is possible when you integrate a real broadband connection into a vehicle. It has four autonomous touch-screens for each passenger that enable a number of in-car features such as gaming, listening to music, watching movies and using internet applications. Under the hood is an LTE (Long Term Evolution – or '4G', if you will) modem from LG and a central computer.
Gaming can be against other passengers in the car, or against other gamers on the internet. Because LTE offers ping times of around 20 milliseconds  it allows for low-latency gaming that wasn't possible over 3G. The screens can also stream HD video from the internet without buffering, or you could watch Youtube videos and listen to music from services like Pandora or Spotify, all of which are ng Connect partners.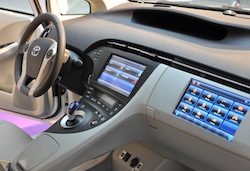 As an internet broadcaster I find the prospect of being able to stream into people's cars an appealing one, but it's uncertain at this time when we'll actually be able to buy connected cars of this nature.
According to Alcatel-Lucent the connected car concept will lead to products that can be retro-fitted to older cars – but it is amazing to see what is possible when the integration is done by the vehicle manufacturer. For example, in the Toyota Prius I was shown on a trip to Paris to view the LTE Connected Car, one can use the touch-screens to access the vehicle's internal sensors and check on things like engine oil levels, brake-pad wear and engine condition. You can also make an appointment to have your car serviced right from the display. And, of course, there's the GPS with all the features you'd expect from that.
The LTE Connected Car is exciting – although I suspect it might be preempted by personal tablet devices that will offer much of the same functionality without the need for fitted computers in the car. Nonetheless, I'm all for the progress. Bring on the LTE.
Below is a video I put together while messing around in the car: