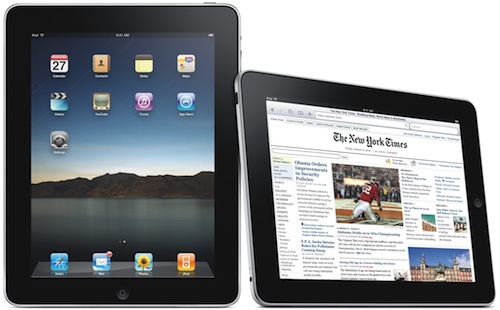 The competition is closed and *we have a winner. Thanks to everyone who followed the competition!*
*
*
If you don't want to read this whole post I'll make it simple: follow me on Twitter and you could win one of the first iPads to land in SA. For more info:
The Apple iPad is now officially available in the USA and I plan to pick up two when I travel to Florida at the end of April – one for me, and one for you.
So here's the deal: follow me on Twitter, and at the end of April (irrespective of how many followers I have), I will choose one of my followers (at random) who will get an Apple iPad. This will either be a device I bring back with me from the USA or, failing that, one of the first to be made available in South Africa – whatever. The point is that the winner will get one as soon as I can get my hands on it and I'll take them out to lunch for the hand-over. At the Wimpy.
And I guess we need some rules here:
My family and close friends are excluded from this compo. Sorry peeps. If you aren't sure whether or not you qualify, send me a DM.
The judge's (my) decision remains final on who gets the iPad.
The competition closes on April 30th and the winner will be announced on 1 May. You have to be following me by 12:00 on the 30th.
When the winner actually receives their iPad will depend on when I can get hold of one. I'm expecting to be able to hand it over immediately, but if I can't do that then patience will be required.
If anyone asks you – yes, this is me shamelessly trying to get more followers, and I don't rightfully give a ** what they think about that.
If you want the cash instead of the prize… well, then we can talk. But I'll think less of you.
If the winner lives outside of South Africa I will get an iPad to them as soon as is reasonably possible – but we'll have to skip lunch. I know, it's unacceptable… but you don't have Wimpy there.