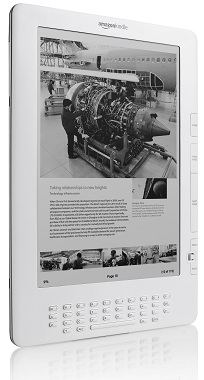 Within months of launching the Kindle and Kindle Global Wireless service in over 100 countries outside of the USA, Amazon this morning announced the launch of the larger-screen Kindle DX internationally. Amazon says that Kindle DX with Global Wireless is available for pre-order starting today for $489 (about R3500) at www.amazon.com/kindledx and ships 19 January.
With 2.5 times the surface area of Kindle's 6-inch display Kindle DX's larger 9.7-inch electronic paper display has more area for graphic-rich content like newspapers and magazines. The larger and more competent  E Ink screen and more memory (3.3GB) are the only real differences between the DX and regular Kindle, however.
Amazon says the international launch of the Kindle has been a huge success with a number of orders already delivered in 130 countries, including South Africa, since the launch in October 2009. The Kindle faces growing competition in the ebook reader space with many new releases approaching the market, including Barnes & Noble's Nook, existing devices from Sony and a looming tablet device from Apple.
The Kindle Store now has more than 400 000 books, including 96 of 112 New York Times Bestsellers, which are typically $9.99 (around R75). More than 50 000 books have been added to the Kindle Store in just the last three months.