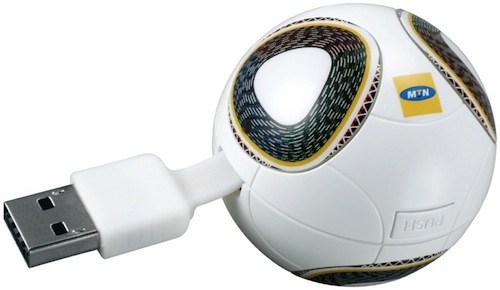 The streets of South Africa are awash with hawkers selling cheap flags and drivers that have turned their cars into mobile shrines for whichever football team they support for the 2010 World Cup that gets underway in June. It's a generally tacky affair, but I'm prone to letting people do whatever the hell they want as long as it doesn't involve imposing on anyone else's freedoms or punching me in the face.
The World Cup is a goldmine. For FIFA. But also for the other companies that manage to slip their own brand into the mix. Chinese company Huawei has used its relationship with MTN – an official sponsor of the sporting event – to do just that, launching the Huawei [email protected] 3G modem in the shape of the official 'Jabulani' soccer ball designed by Adidas. And you know what? I like it.
This isn't a flaky, cheap piece-of-crap gimmick. It's a well-designed, compact and, dare I say, classy piece of memorabilia. And a very good modem.
The E2010 is about the size of a billiard ball and flips open to expose a USB cable concealed in the device. It is compatible with Windows, Mac and Linux and has software loaded on internal storage to get it up and running.
The device handles HSDPA up to 7.2Mbps, HSUPA of up to 5.76Mbps and has a Micro-SD slot for storage. It will be available at MTN retail stores from 1 June 2010 with a 75MB contract for R79 per month.
This is just a 3G modem, even if it does have a memory card slot, which is handy. But the soccer-ball shape and fold-away cable makes it very portable and perfect for chucking in a bag with your laptop.
Huawei owns the lion's share of the 3G modem market, especially in South Africa. The E220 was the little modem that made big inroads for Huawei and they've kept up the lead since then.
At the launch of the E2010 MTN also announced South Africa's first uncapped 3G contracts, details over here.