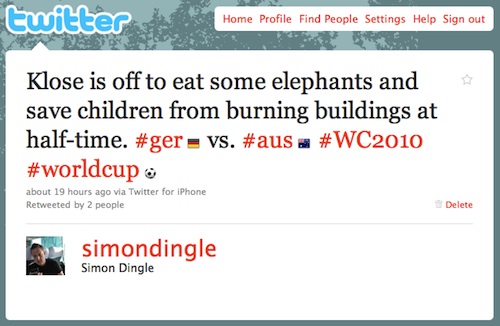 The FIFA World Cup 2010 in South Africa has been featured solidly on Twitter since kickoff on Friday 11 June with trending topics related to the tournament featuring daily. Twitter has a dedicated site for the event and has added icons that appear on the Twitter website in tweets with specific hashtags relating to the event.
These hashtags include #worldcup that generates a little soccer-ball icon and flags for each of the 32 countries at the cup, such as #rsa for South Africa and #bra for Brazil.
Below is a table with all of the country codes for the event that Twitter will pick up and convert into icons.
| | |
| --- | --- |
| Algeria – ALG | Mexico – MEX |
| Argentina – ARG | Netherlands – NED |
| Australia – AUS | New Zealand – NZL |
| Brazil – BRA | Nigeria – NGA |
| Cameroon – CMR | North Korea – PRK |
| Chile – CHI | Paraguay – PAR |
| Denmark – DEN | Portugal – POR |
| England – ENG | Serbia – SRB |
| France – FRA | Slovakia – SVK |
| Germany – GER | Slovenia – SVN |
| Ghana – GHA | South Africa – RSA |
| Greece – GRE | South Korea – KOR |
| Honduras – HON | Spain – ESP |
| Italy – ITA | Switzerland – SUI |
| Ivory Coast – CIV | United States – USA |
| Japan – JPN | Uruguay – URU |