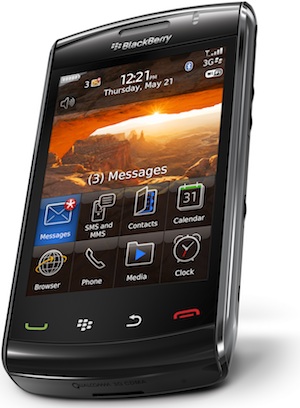 Research in Motion (RIM – the company behind the Blackberry smartphone brand) has launched the Storm 2 in South Africa. This is the reincarnation of Blackberry's first touchscreen device that was developed in cooperation with british cellular giant Vodafone.
The first Storm was a tad clunky, especially compared to Apple's iPhone – which still boasts the best touchscreen interface in the market after some two years. The Storm 2, however, is slick and feels more polished than its predecessor. I can actually type on it this time, whereas I had trouble with the original Storm.
I love my Blackberry Bold and am yet to see another model I'd replace it with – but the Storm 2 might be the one.
That said, I must add that my opinion of the Storm 2 is based on less than an hour's experience with it, so I'll ice the review until I've spent more time with the device.
The Storm 2 has a capacitive touchscreen, which is the same technology as the iPhone. It has a 3.2 megapixel camera that shoots video and offers zoom for stills and 2 GB of internal memory that can be expanded via a MicroSD slot. It also has WiFi, which was missing from the first Storm. And it's dead sexy.
While the original Storm was available exclusively through Vodafone subsidiary Vodacom in South Africa, the Storm 2 is carried by both MTN and Vodacom. Final pricing has not been announced yet, but I'd expect it to be available as a cash purchase of around R8000, or on similar contract terms as the original Storm.
Deon Liebenberg, who heads up RIM in most of Africa, first showed me the device at a recent industry event and it was immediately more appealing than its predecessor. And with Blackberry AppWorld now available in South Africa this might be the iPhone killer we've all been waiting for. I said might.