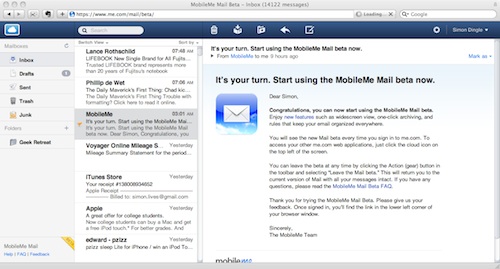 It wasn't long ago that Apple and Google were allied against Microsoft and the broader market. The marriage of the two Silicon Valley giants was torn asunder by Google's ingression in the mobile market with Android. The former confederates went their separate ways with Google CEO Eric Schmidt leaving the Apple board. Now it's on like Donkey Kong between the three tech behemoths – and cloud computing is a new frontier in the ongoing war.
In the enterprise space cloud is less remarkable than its most vehement proponents would have you believe. The IBMs and Microsofts of the world have established metrics, case studies and methodologies for how it's done. And, as IBM CEO Sam Palmisano said in a meeting with press at Armonk, New York Yesterday – this cloud stuff is "nothing new". He's seen it all before. In the consumer space things are different, however, and here I include small business.
In that arena cloud is pitched as a vital next-level computing paradigm. And so it is. Google, Microsoft and Apple are all being challenged by the consumer market for cloud solutions that enable a distributed personal computing model where online is everything and individuals rely on multiple devices that need to be kept in sync.
Google is perhaps most favourably positioned in terms of this new paradigm. In its arsenal it has… well, the Internet. Everything Google does is intrinsically online. Orchestrating cloud services for its technologies is a natural progression more than a challenge.
For Microsoft and Apple, however, distributed meshes in personal computing are contrary to the centralised approach they inherited from a previous era.
Before we continue, we must separate Microsoft in terms of enterprise and consumer markets. We're talking about the Microsoft that is pushing Windows Live and Office Live services here – not the Microsoft that developed Azure. To make the point again: the challenges and principles are different for corporates – we're dealing with personal computing in the consumer sense here where a distributed typography underpins the trend.
While Google was born online, Microsoft has made great inroads in moving into the cloud. The laggard here is Apple – but I get the feeling it is about to take a giant leap forward.
MobileMe was part of Apple's first play with cloud services, along with iWork.com. As is the typical Apple approach Steve Jobs and co. started with simple services that are slowly being ramped up. Apple never goes all out at the get-go.
Jobs clearly has big plans. In recent months Apple has been ramping up its server infrastructure. A new data centre for the company is being rolled out in North Carolina to supplement its existing site in Newark, CA. With an east-coast centre online Apple will apparently add five times more capacity at a cost of about a billion dollars. Either Jobs thinks that MobileMe is going to grow substantially, or Apple is planning something big and new in the cloud space.
Speculation is rife as to what this could be. Recent acquisitions suggest that an iTunes streaming service is on the way – something that would allow you to store your media libraries in the cloud and access them from anywhere. This seems logical, but I get the feeling there is more to it.
Services like Dropbox and Google's pending Gdisk are making amazing things possible in terms of online storage, while companies like Carbonite are taking online backup to the masses. My prediction is that Jobs intends to take MobileMe, which already includes iDisk, and turn it into Apple's "hard drive in the sky" complete with Time Machine backup and a range of services building on iWork.com, Mail and its other existing offerings.
With Apple's developer conference around the corner iPhone fixation has once again hit the market – but I would pay careful attention to Jobs' "and one more thing" when he presents his keynote because I think it is likely he will announce additions to Apple's cloud offering. It just makes sense to include MobileMe with every Mac, including a cloud hard drive for media and other file storage and backup. Apple needs to do something now as Microsoft and Google continue to plod ahead in terms of cloud services and third-parties fill in the gaps.
The recent launch of Ubuntu Linux 10.04 also introduced Ubuntu One, which is Canonical's first romp into cloud services that includes online storage and a music store with cloud media services. In the next few months and years we are going to see Ubuntu rising to challenge what Google, Microsoft and Apple are doing in the space and I'm inclined to think that Jobs' strategy will more closely resemble Ubuntu's than anyone else's.